Indiana Online Notary Services
Get your personal or business documents notarized
7 days a week with an online notary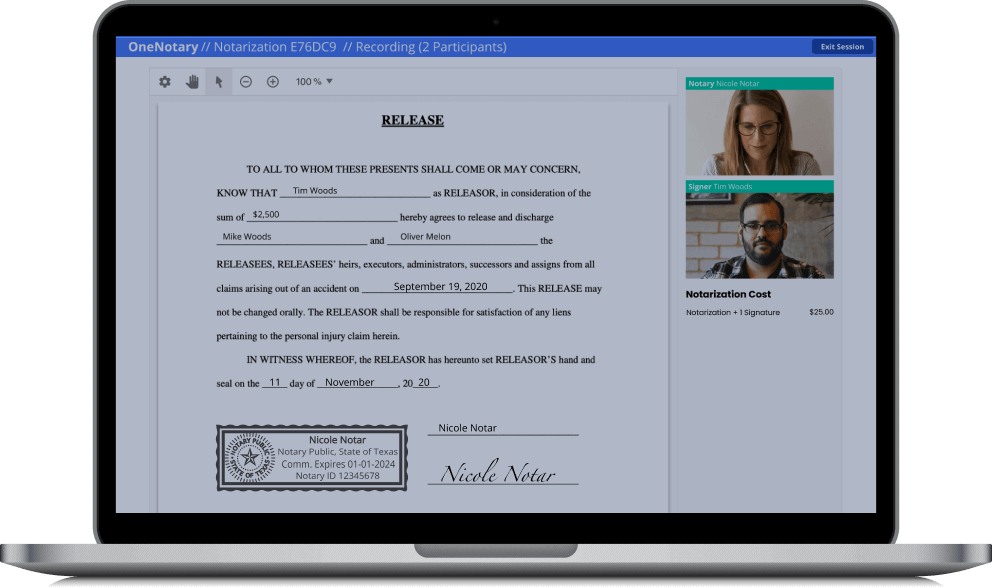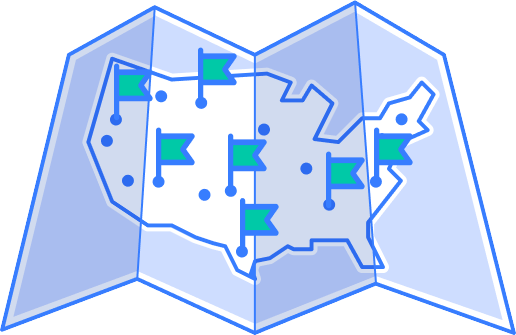 For Individuals Online Notarization is Legal in All 50 States
Your notary may come from another state.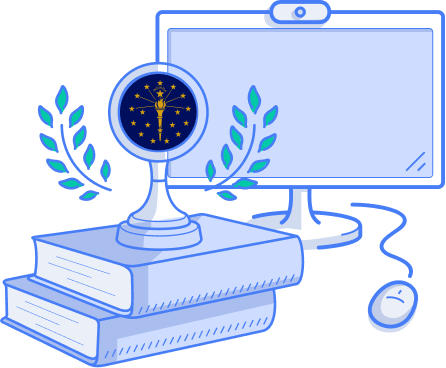 Seal Online Any Document
Signers can notarize online the majority of documents traditional notaries seal. It includes POA, bills of sale, tax returns, and many more.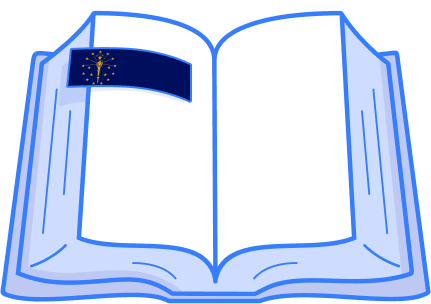 Accepted by Indiana Counties
More and more counties now accept documents notarized online. To be certain, see the document instructions or check with your county clerk.
Why You Should Choose Digital Notarization?
Here are a few good reasons to trust your documents to our remote notary service.
Convenience
Don't drive around looking for a notary. Get your documents notarized from the comfort of your home or office.
Affordability
Notarizations starting at $25, $10 each additional seal.
Privacy
Never worry about misplacing your important documents, securely notarized online means you control document retention
Expertise
Our notaries are knowledgeable and experienced. They're ready to walk you through the signing and notarization.
Your Safety Is Our Priority
End-to-End Encryption
OneNotary's secure platform uses state-of-the-art encryption.
Protected Online Environment
You notarize your documents in a secure online environment.
Secure by Design
We destroy documents we're not required to store.
OneNotary Business Customers
Wills and trusts, releases, durable POAs, court documents, executorships
Bills of sale, title, applications, title transfers, insurance, POA
Medical POA, health proxy, living wills, DNR orders, medical directives
Applications for delivery of mail through agent
Certifications of official records, tax forms, orders for supplies and services
Permissions to travel, parental consents, sponsorship letters
Credit or loan documents, bank transfer forms, bank account management
Loan packages, deeds of trust, affidavits, closing disclosures, promissory notes
Lien waivers, easements, MOUs, contracts, leases
How does OneNotary work?
STEP 1 Fill in your email and press the Start button
STEP 2 Follow the link in the email invitation and upload the document for notarization
STEP 3 Identify yourself by answering questions from your history
STEP 4 Meet your notary online for a notarization session
STEP 5 Download the Notarized Documents
$ 25 .00
Single document online notarization with one notary certificate
+$10 for every additional certificate

Full Service
The platform provides forms, notarization services, and a digital copy. One platform – one easy to use notarized document

Trusted
The platform provides forms, notarization services, and a digital copy. One platform – one easy to use notarized document

Secure
The platform provides forms, notarization services, and a digital copy. One platform – one easy to use notarized document

Money Back
The platform provides forms, notarization services, and a digital copy. One platform – one easy to use notarized document
Frequently Asked Questions
What is Remote Online Notarization (RON)?
If you are looking for Indiana notary services, you may have heard about a RON Indiana. RON stands for remote online notary. Instead of meeting with a notary in person, you meet with a notary virtually using video conferencing software and an internet connection. If you meet with the virtual notary, you may be able to save time and money. A remote notary will walk you through the process of getting your documents notarized online.
Does Indiana allow online notary?
Yes, Indiana does allow you to use a remote online notary service. You need to take a close look at the requirements of your specific document. Then, make sure your remote notary is familiar with the requirements. That way, he or she will be able to walk you through the process virtually.
What documents can be notarized using OneNotary?
If you decide to use OneNotary for your virtual notary services, you can get just about any document notarized virtually that you can get notarized in person. If you have questions or concerns about using a virtual notary service for your documents, you should talk about this with your remote notary ahead of time. That way, you and your notary can be prepared when it is time to get your documents notarized.
Do I have to be in Indiana to use your online notary services?
No, you do not have to be located in Indiana to take advantage of online notary services. Importantly, your notary has to be physically located in the state that matches his or her seal. In general, notaries have to be a resident of a specific state or work in that specific state to be a notary in that area. Therefore, they might have specific geographic requirements they need to follow; however, you do not. If you have to get documents notarized by the state of Indiana, you can be anywhere in the world and access online notary services as long as you have an internet connection and videoconferencing technology. Even if you are out of state, you can still take advantage of online notary services in Indiana.
Do I have to be a United States Citizen to use online notarization?
No, you do not need to be a United States citizen to take advantage of online notarization. If you have legal, financial, or educational documents that you need to get notarized, there is a chance you may be able to get this done using remote online notary services. If you have questions about your documents, you should work with a remote notary who can assist you.
How to notarize a document online in Indiana
If you are interested in getting a document notarized online in Indiana, the steps you need to follow include:
You need to take a look at the calendar and select an available appointment slot.
You need to upload your documents ahead of time so your notary can review them.
You need to answer questions to verify your identity.
You need to meet with a notary during the virtual notary session.
Once you are done, you can download your notarized documents.
How is a signer's identity verified?
There are strict protocols the notary will use to review your identification documents and make sure your identity is properly verified. You may need to answer security questions to verify your identity as well.
How is a document signed?
You can either use an electronic signature or download the documents, sign them, and scan them back. Your notary will review the process with you. Some documents may have specific requirements, so make sure you clarify this with a notary ahead of time.
How long does it take?
The process itself should only take a few minutes. The notary will go through the steps with you. The exact amount of time it takes to finish the process will vary depending on the type of document you are notarizing.
How can I get the notarized document?
You should receive an email confirmation when the process is finished. Then, you can use an electronic link to download your notarized documents and submit them to the appropriate party.
How much can virtual notary charge for their services?
The exact rates for a notary are set by the state of Indiana. A notary can charge $25 per remote online notarization. If you have questions about the cost of the service, you should clarify this ahead of time. That way, you know exactly how much money you have to pay.
Is remote online notarization safe?
Yes, remote online notarization is safe. If you decide to take advantage of the remote online services from OneNotary, all of your communications are encrypted using the latest technology. Therefore, you can rest easy, knowing your confidential information is safe.
What People Say
We value our customers the most and you can find it reading our reviews
Super easy to schedule and accomplish
Their app lets me update the fields and sign my pdf document. My company accepted my signed pdf so mission accomplished.
Great
Notary knowledgeable, helpful, professional, Great service.
The OneNotary service was very easy and convenient
I had a small issue with my document upload and we were able to get it fixed and completed very quickly. I will definitely use the service in the future.
My experience was excellent
OneNotary responded to my email queries very promptly. The notary who worked with me was efficient, very helpful and highly professional. The website is very user-friendly, and the technology that OneNotary uses works extremely well. Finally, I found the rates very reasonable.
I am grateful for the very kind attention and assistance
The notary was friendly, knowledgeable, and went the extra mile to be very helpful.
Get Online Notarization for Your Business Documents
OneNotary is here for all your needs. Our remote notaries can digitally seal your important business documents.

Are you ready to try online notarization?
Find Out More
Become a Remote Online Notary
Online notaries have unlimited earning potential.

Working part-time, completing three or four short sessions with multiple notarial acts a day.
Find Out More