Minnesota Online Notary Services
Get your personal or business documents notarized
7 days a week with an online notary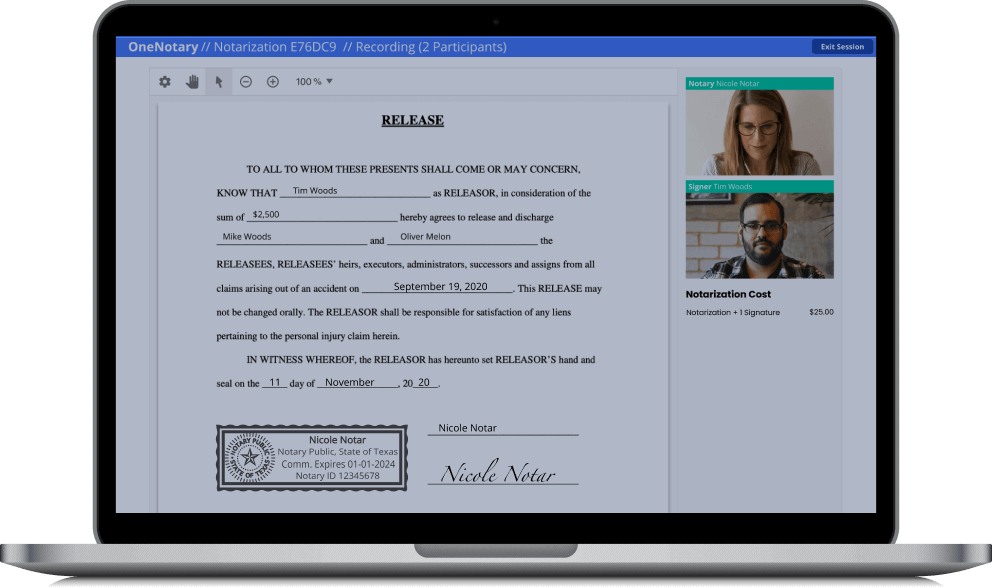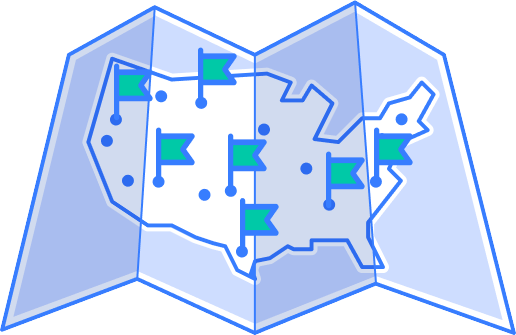 For Individuals Online Notarization is Legal in All 50 States
Your notary may come from another state.
Seal Online Any Document
Minnesota allows online notaries to perform the same notarial acts as traditional notaries including POA, bills of sale, tax returns and many more.
Accepted by Minnesota Counties
More and more counties now accept documents notarized online. To be certain, see the document instructions or check with your county clerk.
How does OneNotary work?
STEP 1 Fill in your email and press the Start button
STEP 2 Follow the link in the email invitation and upload the document for notarization
STEP 3 Identify yourself by answering questions from your history
STEP 4 Meet your notary online for a notarization session
STEP 5 Download the Notarized Documents
$ 25 .00
Single document online notarization with one notary certificate
+$10 for every additional certificate

Full Service
The platform provides forms, notarization services, and a digital copy. One platform – one easy to use notarized document

Trusted
The platform provides forms, notarization services, and a digital copy. One platform – one easy to use notarized document

Secure
The platform provides forms, notarization services, and a digital copy. One platform – one easy to use notarized document

Money Back
The platform provides forms, notarization services, and a digital copy. One platform – one easy to use notarized document
Frequently Asked Questions
If you are looking for an online notary Minnesota, there are several common questions people have. Some of the most common questions people ask include:
What Is an Online Notary?
An online notary is just like a physical notary. Both an online notary and a physical notary are public notaries. The only difference is that you will go through the notary session using video conferencing technology instead of driving to meet with someone in person.
Is an Online Notary Legal in Minnesota?
Yes, an online notary is legal in Minnesota. If you have documents that need to be notarized, you can do so using an online notary as long as that person is certified to be a notary public in Minnesota.
What Documents Can Be Notarized on OneNotary?
Any document that you can get notarized using a physical notary public you can get notarized using an online notary service, such as OneNotary. There are numerous examples of documents that you may need to get notarized for various reasons. For example, if you need to get an educational transcript notarized, documents notarized for real estate purposes, or documents notarized for court proceedings, you can do so using OneNotary.
How To Get Something Notarized in Minnesota Online
There are a few steps to get something notarized online in Minnesota. First, you need to take a look at the calendar to examine the availability of various online notaries. Then, you need to schedule an appointment, after which you will receive an email link you can use to upload your documents. When it is time for your session, you will log in and speak with your online notary. Your notary will walk you through the process, and you will receive an email link containing your notarized documents once the appointment is done.
How Does OneNotary Perform ID Verification and Credential Analysis?
Identity verification and credential analysis are important for making sure your confidential information is protected. When you log in, OneNotary will use several layers of encrypted security software to make you are who you say you are. This is critically important for making sure you are safe.
What Happens During an Online Notarization Session?
During your online notarization session, the online notary will make sure you understand the implications of the document you are signing. The notary will also make sure you are entering into the agreement of your own free will and volition. Finally, the online notary will also verify your identity to make sure the right person is signing the document.
How Do I Download the Notarized Document?
Once the appointment is over, you will wait a few minutes for the online notary to do his or her job. Then, when your documents are ready, the online notary will send you an email. You can use the email link to enter a secure portal, download your notarized documents, and make sure they look correct to you.
How Much Can an Online Notary Charge in Minnesota?
Fees for an online notary are set by the state. In the state of Minnesota, an online notary is allowed to charge $5 for his or her services. Keep in mind that there might be additional fees for other services, so make sure you verify how much you need to pay for the service. OneNotary is open, honest, and transparent regarding all costs.
How Safe Is a Virtual Notarization?
Getting your documents notarized virtually is a very safe process as long as you choose the right service. For example, OneNotary routinely reviews its security measures to make sure all vulnerabilities are patched, all confidential information is protected, and that all client concerns are addressed.
Why Get Something Notarized Online?
You can save a significant amount of time and money because you don't need to worry about driving from place to place to find a physical notary public. Instead, the notary will come to you using videoconferencing technology.
Get Online Notarization for Your Business Documents
OneNotary is here for all your needs. Our remote notaries can digitally seal your important business documents.

Are you ready to try online notarization?
Find Out More
Become a Remote Online Notary
Online notaries have unlimited earning potential.

Working part-time, completing three or four short sessions with multiple notarial acts a day.
Find Out More